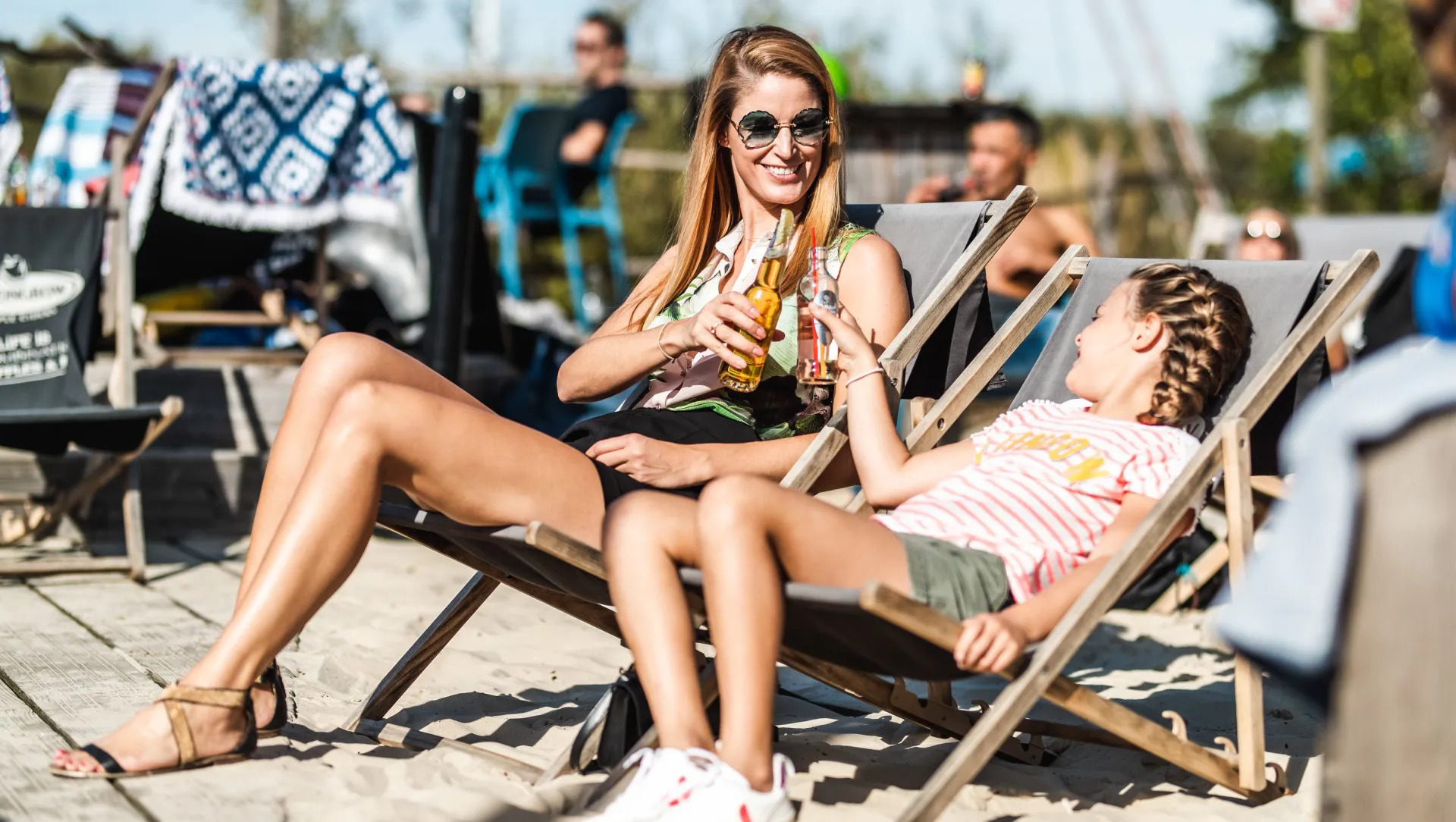 If you prefer to just chill, we offer the most beautiful sunsets in Limburg in a relaxing setting.
At our beach bar we serve a wide range of summery drinks.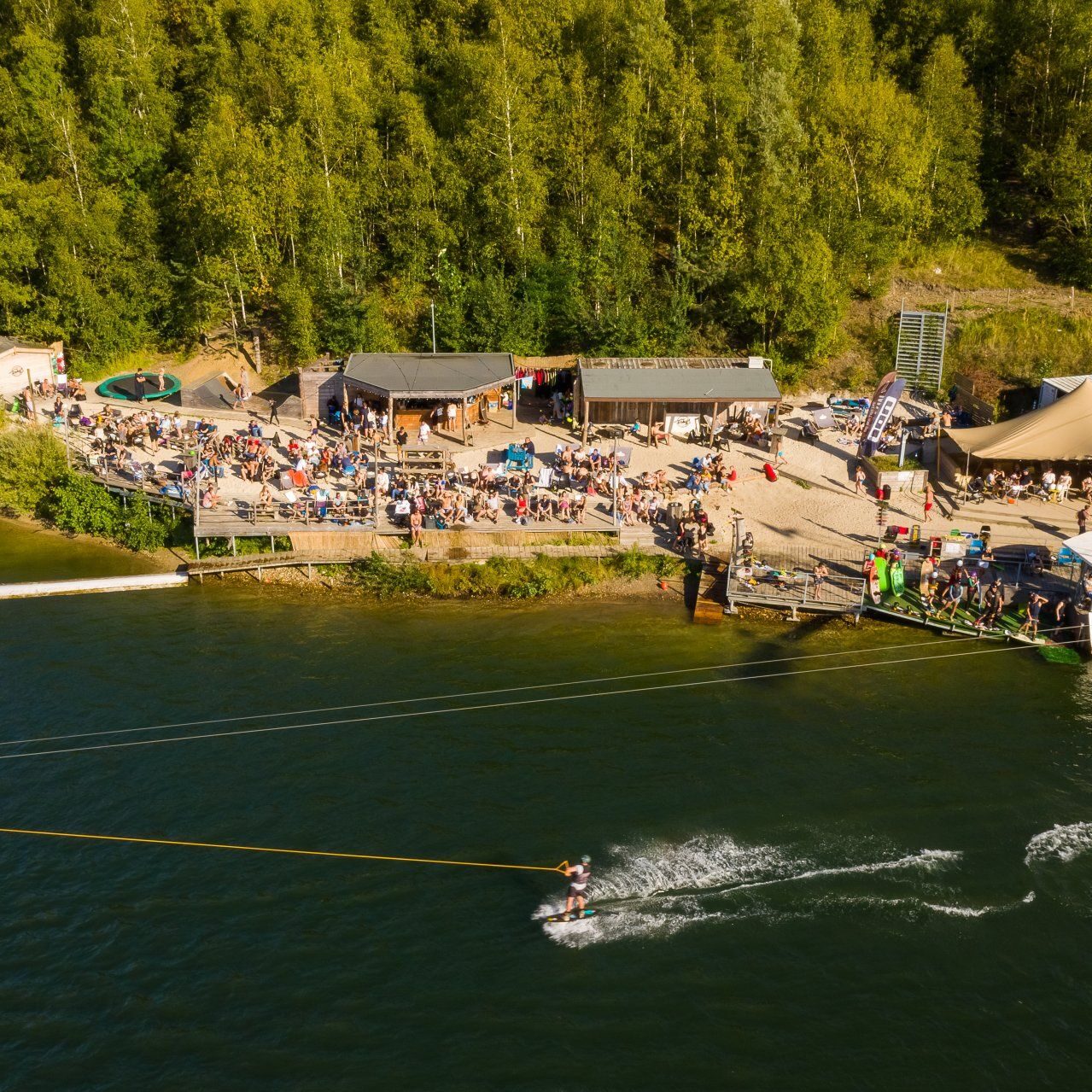 At our restaurant you can come to eat lunch and dinner. We have an extensive menu with different dishes, including a number of vegetarian options.
You can sit under our covered terrace, on the beach or on our terrace on the water.
Booking is not possible yet.
Warm drinks
Coffee €2.30
Cappuccino €2.50
Latte Macchiato €3.50
Decaf €2.30
Tea €2.30
Hot chocolate €2.50
Hot chocolate with whipped cream €3.50
Cold drinks
Flat water €2.00
Sparkling water €2.00
Coca Cola €2.50
Coca Cola zero €2.50
Fanta Orange €2.50
Sprite €2.50
Lipton Ice tea €2.50
Redbull €3.00
Fristi €2.50
Chocolate milk €2.50
Apple juice €2.50
Tönissteiner (lemon, orange, multifruit) €3.00
Beers on tap
Cristal on tap €2.50
Bottled beers
Maes 0% €2.50
Maes Radler €2.50
Cristal €2.50
Hapkin €4.00
Grimbergen Blond €4.00
Grimbergen Dubbel €4.00
Affligem Triple €4.00
Kriek Lambic €3.00
Geuze Lambic €3.00
Strongbow red berries €4.00
Strongbow Gold apple cider €4.00
Strongbow red berries 0% €4.00
Desperados original €4.00
Duvel €4.00
Cornet €4.00
Kompel €4.00
La Chouffe €4.00
Wines
Slurp Sauvignon blanc sweet €3.50 (glass) €19.50 (bottle)
Ave de presa dry €3.50 (glass) of €19.50 (bottle)
Ave de presa red €3.50 (glass) €19.50 (bottle)
Ave de presa rosé €3.50 (glass) € 19.50 (bottle)
Jaime serre cava €4.00 (glass) €21.50 (bottle)
Cocktails
Rum-Coca Cola €8.00
Gin-Tonic €8.00
Aperol-Spritz €8.00
Mojito €8.00
Lunch sandwiches
Croque-monsieur €4.50
Croque-madame €5.50
Meat sandwich with fried egg €11.50
Hot chicken sandwich €8.50
Warm brie sandwich €8.50
Healthy sandwich (lettuce, tomatoe, cucumber, egg) €6.00
Sandwiches with deepfried snacks
Sandwich frikandel €5.50
Sandwich meat croquette €5.50
Sandwich Mexican snack €5.50
Terhills burger €12.50
Salads
Goat cheese salad €12.50
Ceasar salad €12.50
Warm brie salad €12.50
Nachos
Nachos vegetarian €8,50
Nachos pulled chicken €9.50
Nachos pulled beef €9.50
Appetizers
Bitterballen 14 pieces €9.50
Party snacks 14 pieces €10.50
Shared plate:
Cheese 12x, sausage 12x , nachos, sanwich, bitterballen 8x and party snacks 8x €17.50
Pastas
Pasta Bolognese €11.50
Pasta Carbonara €11.50
Pasta Arrabbiata €11.50
Pizzas
Pizza Margherita €10.50
Pizza Hawaï €12.50
Pizza salami €12.50
Pizza vega €12.50
Pizza Americana €15.50
Pizza bbq chicken €15.50
Flammkuchen
Flammkuchen bacon-onion €8.50
Brie tarte €8.50
Desserts
Brussels waffle with sugar €5.50
Brussels waffle with strawberries €6.50
Dame Blanche €5.50
Soft ice cream €1.50
Toppings €0.50 (disco dip, nuts, chocolate)