What is the difference between an intro session and a regular session?
During the intro session, the speed of the cable is reduced, which makes it easier for beginners to learn water skiing/wakeboarding/kneeboarding. During both the intro session and regular sessions, our instructors are ready to provide you with the necessary information and guidance.
What exactly is a day ticket?
With a day ticket you can come water skiing/wakeboarding from the timeslot available online until closing time.
We recommend booking in advance via our website to avoid disappointment.
Do you need to make a reservation for the restaurant?
It is not possible to make reservations for our restaurant. We have two spacious terraces and a large number of seats.
What is the starting time?
You must check-in at the reception of Terhills Cablepark 45 minutes prior to the activity.
The car park is located at Nationaal Parklaan, 3650 Dilsen-Stokkem. Follow the signs for Gate North, which will indicate Terhills Cable Park. Do not enter Vilvertstraat on your navigation, as this will take you to the wrong address. Before the entrance to Terhills Resort, turn left into the free car park. It is about a 10-minute walk from the car park.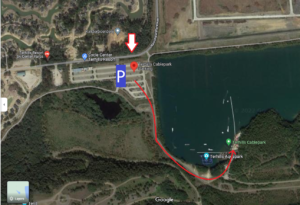 I made a reservation but I can't come, now what?
It is possible to cancel or reschedule your reservation 5 days in advance. After that, the reservation is final.
Will the activity take place if the weather is bad?
Yes, often. Only in case of extremely bad weather and thunderstorms the activities cannot take place or are temporarily halted. These circumstances are difficult to assess in advance and therefore such choices are made at the time. There are two large covered terraces where you can sit dry and shelter from the rain.
What is the minimum age for entering the Aqua Park?
From 8 years of age. Children up to 12 years old must bring an adult supervisor to Terhills Cablepark. The supervisor does not have to enter the Aqua Park.
Do I have to come along as a parent/guardian at the Aqua Park?
No, but you must actively supervise and not leave children under the age of 12 alone at Terhills Cablepark.
Can I bring my own food and beverages?
No, it is not allowed to bring your own food and drinks on the terrain of Terhills Cablepark.
Do I have to print my confirmation?
No, please have your confirmation ready when checking in at reception.
Can I receive an invoice after my online booking?
At the moment it is not yet possible to receive an invoice for an online booking.
I am with a group, are there other prices and programmes for this?
From 20 persons, we can compile a tailor-made programme for you. We like to think about the possibilities. You can contact us at: info@terhillscablepark.be
Dogs on a leash are allowed on the decking and stone terrace, not on the sandy beach.
Is there a changing room?
Yes, there are a limited number of individual changing cubicles. These are located to the right of the Beach Bar.
Terhills Cablepark offers a limited number of free lockers for storing (small) valuables. Locks are available at the bar and can be borrowed for a deposit.
There is an outdoor shower where you can rinse off.
Is Terhills Cablepark wheelchair friendly?
The decking, indoor bar and stone terrace are wheelchair accessible. There is also an accessible toilet.
Are old vouchers still valid?
Terhills Cablepark was taken over by a new owner in 2020. Vouchers issued before 2020 by the previous owner will not be accepted after the 2022 season.